VILLA SHER GUESTHOUSE
VILLA SHER GUESTHOUSE
CONTACT DETAILS
Phone:
Rina: 084 833 0523 or Sarel 082 892 9898
Address:
48 Arnoldus Pannevis Street, Duvha Park, Witbank, Emalahleni
E-mails:
villasher@web4us.co.za
Villasher1@gmail.com

Location:
Witbank (eMalahleni)
Facilities

Bed and Breakfast

Self Catering Accommodation

Fan

Microwave

Satellite TV

Safe

Swimming Pool

Braai facility

Safe Parking

WiFi

Fridge

Tea & Coffee facility
Villa Sher Guesthouse offers affordable and very neat accommodation in Witbank (eMalahleni), Mpumalanga
Villa Sher Guesthouse is ideal for families, contractors, or groups, and is situated near mines and power stations.
Packages for 1. Bed & Breakfast; 2. Bed, Breakfast & Dinner; 3. Bed, Breakfast, Lunch pack Dinner & Laundry
Accommodation
12 Rooms with en-suite bathrooms all equipped with, Dstv, Fridge, Microwave, Tea and Coffee.
Unit Amenities:
Fan
Cleaning Service daily
Linen
Microwave
Satellite TV
Shower
Safe deposit Box
Laundry (On request)
Check in time: 14:00
Check out time: 09:00
Facilities:
Swimming pool
Braai area
Secured undercover parking
Breakfast
Lunch packs
Dinner
Free WiFi
Security
Nearby places:
The Ridge Casino 8km
Highveld Mall 7km
Witbank Dam 8km
Witbank Nature reserve 8km
Cosmos Live Hospital 10km
Villa Sher Guesthouse GPS Coordinates: 25⁰56ꞌ14.4 29⁰14ꞌ49.6˝E
Map: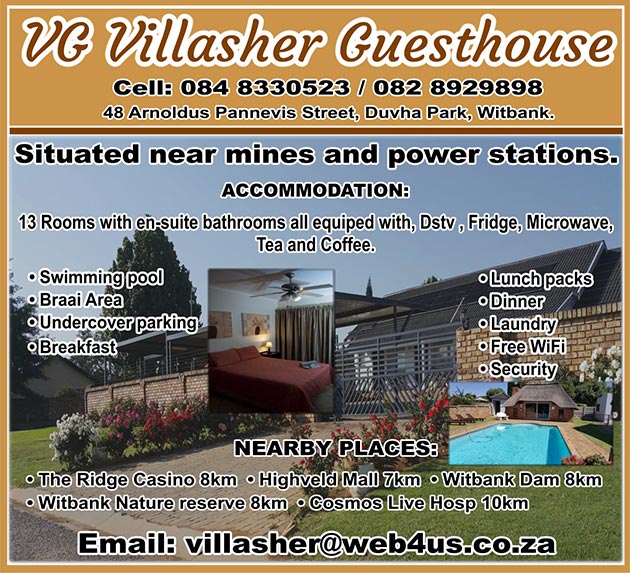 VILLA SHER GUESTHOUSE
CONTACT DETAILS
Phone:
Rina: 084 833 0523 or Sarel 082 892 9898
Address:
48 Arnoldus Pannevis Street, Duvha Park, Witbank, Emalahleni
E-mails:
villasher@web4us.co.za
Villasher1@gmail.com

Location:
Witbank (eMalahleni)
Facilities

Bed and Breakfast

Self Catering Accommodation

Fan

Microwave

Satellite TV

Safe

Swimming Pool

Braai facility

Safe Parking

WiFi

Fridge

Tea & Coffee facility